The Beginnings of Hikone Castle
Hikone Castle was built around a castle keep on the summit of Hikone hill, which is approximately 136 m above sea level. The year following the 1600, Battle of Sekigahara, Ii Naomasa, the first daimyo (lord) of Hikone, was given Sawayama Castle. The following year Naomasa would pass away, but in 1604, Naotsugu, Naomasa's eldest son, began construction of Hikone Castle on Hikone hill, about 1 km from Sawayama Castle.
The construction of Hikone Castle was fully supported by Tokugawa shogunate. Construction proceeded quickly, with the cooperation of daimyo near Hikone, and the castle keep was completed from the end of 1606 to the beginning of 1607. The castle keep is said to have been brought from Otsu Castle, and the other buildings and stonewalls are also said to have been reused from other castles.
Construction work was very difficult because it required leveling a hill widely, building stone walls, changing the flow of the Seri River, and building a castle town. This is why Tokugawa shogunate's backup was necessary.

Construction of the castle was interrupted by the Siege of Osaka, which sought to annihilate the Toyotomi family at Osaka Castle, but Naotaka, Naotsugu's younger brother, subsequently took over and completed the castle. It became the territorial governance center.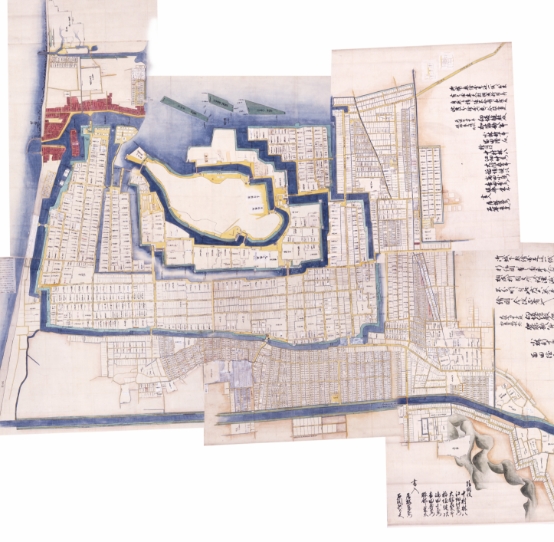 The Ii Family,Lords of Hikone
In the old days, Hikone's territory was large, extending from the eastern to the northern part of Shiga Prefecture. Hikone was governed by the Ii family. During the roughly 260 years of the Edo period (1603–1867), 14 members of the Ii family served as Hikone's daimyo.
The first, Naomasa, shined in the Battle of Sekigahara and then became the Hikone's daimyo. Naotaka, the second, was very trusted by the shogun and did important work in the Tokugawa shogunate.
Naosuke is one of the most famous members of the Ii family. He was the 13th daimyo, and as a tairo (grand councilor in the Tokugawa shogunate), he tackled a variety of difficult issues. However, he was disliked by people who disagreed with him and assassinated in Edo (Tokyo).
Hikone Castle Is Incredible! (1)
It teaches us so much about the Edo period
Even from a worldwide perspective, Japan's Edo period (1603–1867) was a remarkably long time of peace. There were no wars for more than 200 years. It was the samurai who brought an end to the Sengoku, or "Warring States," period (16th century). The samurai changed themselves from a group specializing in fighting to one specializing in government, and established a new system of governing territories that was based on castles.
In this system, Tokugawa shogunate and daimyo governments ruled whole of Japan together.
Hikone Castle was a territorial governance center. There are more facilities for territorial governance than any other castle in Japan. Furthermore, they have been preserved in good condition. A mere visit to Hikone Castle can provide insights into the governance system of the Edo period.
Hikone Castle Is Incredible! (2)
Many of Edo Period features remain today
Buildings inside Hikone Castle—such as the castle keep (a national treasure), the turrets, a horse barn, and the palace—as well as the stonewalls and garden are well preserved. Also, excavations have found that there are various things remaining underground.
Hikone Castle is unique because so many of its extant features capture quite well the politics, education, and culture of the Edo period (1603–1867).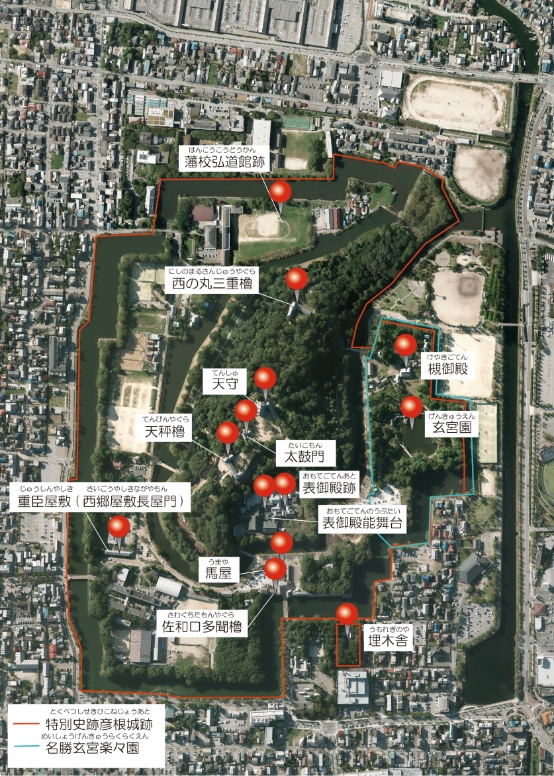 Ii's Red Armor
The Ii family had a rule that everyone from daimyo to his retainers had to wear red-colored armor and helmets. The golden horns on the helmet are called tentsuki ("sky-thrusting"). Tentsuki were placed on the side of the head on a daimyo's helmet, and in front of the head on a retainer's helmet.
Hikone in the Edo Period
Scope and Population of Hikone
The territory of the Hikone Domain in Omi Province was very large, covering not only present-day Hikone but also the towns and cities of Nagahama, Maibara, Taga, Koura, Toyosato, Aisho, Higashiomi, and Omihachiman. In the early Edo period (1603–1867), approximately 200,000 people lived in Hikone Domain's territory in Omi Province. Incidentally, about 37,000 people lived in the castle town, of which about 20,000 were samurai.
※The Hikone domain was also located in Setagaya, Tokyo, and Sano, Tochigi.
Surroundings of Hikone Domain
Until reclamation work began in 1944, a lake separate from Lake Biwa called Matsubaranaiko extended to the north of Hikone Castle.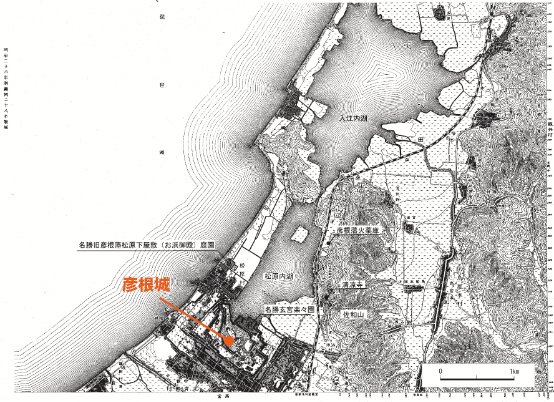 Why Hikone Castle Remains Today
In the Meiji era (1868–1912), Hikone Castle and its castle town underwent dizzying changes. In 1871, the Hikone Domain was abolished, and Ii Naonori, the last daimyo of Hikone, left Hikone. After this, Hikone Castle became a government office and a military base, but in 1878, when the military base was moved elsewhere, the decision was made to raze the castle buildings no longer in use, including the castle keep. This was a crisis for Hikone Castle, but Okuma Shigenobu, who was visiting Hikone with the Emperor Meiji, saw that it was about to be dismantled, and, regretting this, suggested to the Emperor Meiji that it be preserved. This led to the decision of preserving Hikone Castle, fulfilling the wishes of local residents.
In 1944, the Ii family donated the land and buildings of the Hikone Castle to Hikone City, and in 1951, it became a "Historic Site" Cultural Property. Furthermore, in 1956, it was designated a "Special Historic Site." Incidentally, the only Special Historic Sites in Shiga are Azuchi Castle and Hikone Castle.
Hikone Castle's History
| | |
| --- | --- |
| 1600 | Battle of Sekigahara |
| 1601 | Ii Naomasa enters Sawayama Castle |
| 1602 | Ii Naomasa passes away. His eldest son, Naotsugu, becomes lord of the castle. |
| 1604 | Construction of Hikone Castle begins. |
| 1606〜1607 | The castle keep is completed. |
| 1614 | During the Siege of Osaka (Winter Campaign), Naomasa's second son Naotaka becomes daimyo of Hikone.Construction is suspended. |
| 1615 | Siege of Osaka (Summer Campaign) |
| 1622 | Hikone Castle, including its castle town, is completed. |
| 1871 | With the Edo period having ended a few years earlier, the Port of Hikone ceases to exist. |
| 1872 | Hikone Castle becomes an army base. |
| 1878 | Although the decision is made to demolish the castle, Okuma Shigenobu proposes to the Emperor Meiji that this be halted, and the decision is made to preserve the castle. |
| 1944 | Hikone Castle is donated to Hikone City. |
| 1951 | Hikone Castle becomes a Historic Site and the castle keep becomes an Important Cultural Property. |
| 1952 | The castle keep becomes a National Treasure. |
| 1956 | The castle becomes a Special Historic Site. |
The World of Noh
Noh is a popular form of theater that was first performed about 650 years ago. The actors perform on a noh stage, wearing noh masks and noh costumes. Various types of noh masks are needed depending on the role. There are masks of gods, masks of old men, masks of demons with strong powers, masks of ghosts, and masks of men, and masks of women. The type of noh costume used also depends on the role. To express the character's personality, different patterns and color tones are selected. Hikone Castle is also the only place in Japan where an authentic noh stage remains inside the castle.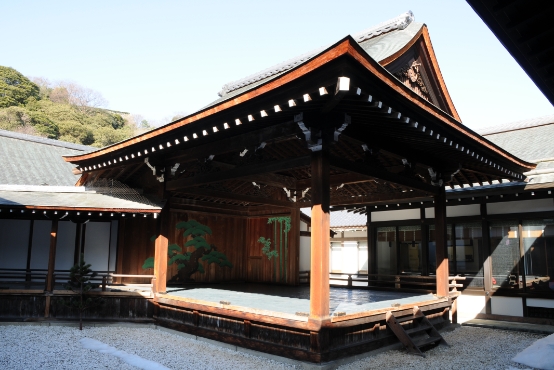 Tea Ceremonies
Usually, Japanese people drink "sencha" green tea by pouring hot water over its leaves. On the other hand, tea leaves stone ground into a fine powder are called "matcha," and mixed with hot water to drink.
Matcha was introduced to Japan from China and was first taken as medicine by monks at temples, but gradually spread to the general public.
At tea ceremonies, one enjoys tasting the tea as well as looking at the bowls, other implements, as well as the flowers and hanging scroll that decorate the room. Hikone Castle also preserves many tea ceremony implements collected by successive of Hikone; Ii Family to entertain their guests. The most important thing at tea ceremonies is the spirit of hospitality.
It is said that the four-character phrase ichi-go-ichi-e (一期一会; "providing hospitality to another person like it is a once in a lifetime encounter") was created by Ii Naosuke, tairo (a grand councilor of the Tokugawa shogunate), in the context of tea gatherings during the mid-nineteenth century.
Gagaku, Japan's Ancient Music
Gagaku refers to both music that was introduced from China and elsewhere about 1,200 years ago as well as music that has existed in Japan since days of old. In gagaku, there are instrumental ensembles, dances, and songs.
Although one doesn't hear it much nowadays, people in ancient times enjoyed gagaku just as we enjoy music at concerts and on CDs.
Hikone Castle is home to more than 260 gagaku instruments collected by the 12th Hikone daimyo, Ii Naoaki. They are known for being one of the finest collections of musical instruments in Japan.
Old Paintings and Calligraphy
Old Japanese paintings and calligraphy pieces are compact and easy to store; they take the form of, for example, folding screens, horizontal scrolls, and hanging scrolls.
Also, Japanese people have long cherished the transitions between spring, summer, fall, and winter. They have enjoyed looking at pictures of plum blossoms and cherry blossoms in spring, and foliage and chrysanthemums in fall. They also have liked to create waka poems about what they feel during the seasons and write them down using beautiful calligraphy.
Various excellent paintings and calligraphy are found at Hikone Castle, including the Hikone Folding Screen, a National Treasure.